If you want to reveal all your dancing skills, you should buy only the best salsa dance shoes. Consider them as your armor which has to improve your moves instead of making them heavier or awkward. To make your performance smooth and perfect, you have to make sure that you have found the right pair.
The upper part is made of leather
Protection from compression
Top Pick
The upper part is made of leather
Protection from compression
While dancing, the shoes must feel weightless, comfortable, and offer the balance and grip you need. Standing on high heels might be challenging enough even in daily life, so you have to find the heels that allow you not only to stand but even to dance.
7 Best Salsa Dance Shoes Reviewed
If you can't decide which shoes you need, check out this list. It contains only the most trustable salsa shoes checked either by me or my friends. Focus on the materials, heels, brand, and durability. Read the list of pros and cons before you order anything.
1. Dynadans: Best Dance Shoes for Salsa From Leather
This is my favorite model on the list. They are perfect for both daily training and performance. They come without high heels and offer a high level of stability even for a newcomer. The model is made of high-quality leather and is equipped with a synthetic sole. This Chinese brand was founded in 1960, and it still makes shoes for dancers around the world.
The arch is made of leather and neoprene for better stretching. The sole is split, which is perfect for beginners who learn their first moves. It provides better flexibility. I also recommend this model to everyone who feels insecure standing on high heels. This option has a 0.4-inch heel, which is flat. Apart from that, it is really simple to wipe it with a wet towel after each lesson.

PROS:
Split sole
The upper part is made of leather
Flat heel
Weightless
A tight grip on the surface
CONS:
If you prefer high heels for dancing, you might need another model
2. iCKER 2-in: Great Salsa Dance Heels for Ballroom
This model is perfect for any ballroom. The heel isn't too high and offers stability during your moves. Apart from that, you can choose between silver, black, and gold colors. There are different types of design which you might like. iCKER offers only high-quality dancing shoes. You can find models for salsa, tango, and foxtrot. I tried this one during one of my performances and was satisfied with the results.
The sole is made of suede. The upper part is made of leather and sequin fabric. The bottom is non-slippery and is made of wool. Your feet will not get sweaty since the shoes are breathable and absorb moisture anyway. You can comfortably stand in these shoes for a long time because the insoles evenly spread the pressure. The heel is only 2 inches high, which is perfect for the show as well as for your safety.

PROS:
The sole is made of suede
Stylish design
The heel is perfect for a ballroom
Protection from compression
Not slippery
CONS:
The upper part is not completely closed
3. Capezio: Professional Salsa Shoes With Buckle
Just look at these gorgeous shoes! The model is perfect for any dancing competition, although I can't imagine someone doing such blasphemy as practicing in it. So, if you want solid, reliable, and awesome dancing shoes from one of the most trustable companies in the world, it is your choice. Capezio started their business in Italy and moved to the US after some time. They successfully made shoes for Broadway dancers. Now you can buy this model in a blink of an eye.
Check out this cute buckle. It reliably fixates your foot inside the shoe. The heel is 2.25 inches hereб which is slightly higher than the previous model but also wider, so you will not feel that difference. The upper part is made of PU leather. The sole is also made of scored leather. There is a microfiber that absorbs the moisture inside the shoe.

PROS:
Awesome design
Solid fixation
Moisture absorption
Pressure spreads evenly
Affordable price
CONS:
The heel is higher than in the previous models
4. iCKER 2.4-in: Best Shoes to Dance Salsa From Satin
These shoes are perfect for a wide range of ballroom dances, including salsa. The option features a 2.4-inch heel and a strong grip due to a non-slippery suede sole. There are numerous colors you can pick. Apart from classic golden and black, you can try silver, purple, and blue. There is a model with a rubber sole for amateurs. The iCKER brand offers manual craftsmanship for each model. I appreciate their approach to customers and the ability to pick the best materials and design.
There is only one thing I want to warn you of: You can't wash these shoes. They don't withstand water as well. Apart from that, these shoes are great for long hours of dancing. They are durable, lightweight, and made of high-quality satin and suede.

PROS:
Wide range of colors
Buckles are adjustable
High-quality satin
Non-slippery
Made manually
CONS:
The model doesn't withstand any type of liquid
5. YYTing: Perfect Salsa Dancing Shoes From Satin
The upper part of this model looks simple and elegant. Satin stripes gently but reliably fixate your foot in the shoe. The sole is made of suede. The 2.5-inch heel is reliable and wide. You can pick any ballroom dance to test these shoes. YYTing is a Chinese-based shoe manufacturer that offers a wide range of ballroom shoes for dancers around the world.
Use the size chart offered by the developer to find the right fit. The model is lightweight and breathable. The midsole is made of elastic latex. It is designed so that you won't lose the shoes during the dance. Strong fixation is reached due to the multiple stripes around the arch and toes. You can pick the black, nude, and tan colors of the shoes.

PROS:
Breathable design
High-quality satin stripes
Comfortable arch
Absorbs moisture
Affordable price
CONS:
The developer is not well-known compared to other models on the list
6. TTdancewear: Best Salsa Shoes With Rhinestones
This dazzling model can outshine all your competitors on the ballroom floor. I've seen numerous cases where these shoes were ordered for weddings and other important ceremonies mainly because of the beauty and comfort they give to the tired feet. The model was made by TTdancewear, which is a Chinese manufacturer founded in 2012. The company sells dancing shoes around the world.
You can find different colors of this model available at the store. You can pick tan, black, silver, red, or nude options. The sole is made of suede, and the upper part is covered with satin stripes and rhinestones. The soft fabric securely covers your foot, so it does not move during the dance. The extra fixation of the arch is ensured by a buckled leather stripe. There is also a soft footbed pad that absorbs moisture.

PROS:
Posh design
Wide range of colors
Pads on the toes
Soft satin
Extra fixation
CONS:
These 3-inch-heels are too high for amateurs
7. Cleecli: Comfortable Salsa Shoes for Every Level
This model is perfect for both performance and practice. The heel is not that high and wide. You can get used to dancing in heels and master your skills thanks to this model. Numerous satin straps provide a strong fixation to your feet.
Cleecli is a Chinese manufacturer with customers around the world. The company is not that old, but they have already made a great reputation on the market. The shoes are breathable and lightweight. Apart from that, the price is competitive.

PROS:
For any dancing level
Strong fixation
Breathable fabric
Comfortable heel
Affordable price
CONS:
The manufacturer is not well-known
How to choose salsa shoes?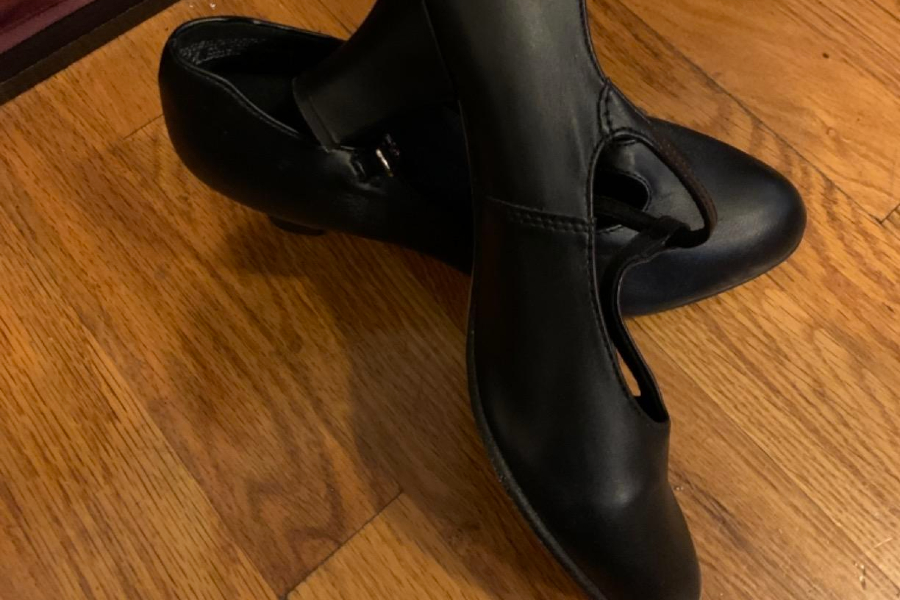 Make sure that you know what you need for the dancing practice. There are differences between practice salsa shoes and the shoes you pick for performance. Usually, dancers have two different pairs or even more. You have to pay attention to the next factors:
tight grip;
sole material;
breathable fabric with moisture absorbent properties;
height of the heel and its width;
strong fixation;
the grip on the floor.
What shoes are best for salsa?
My top choice is Dynadans, but I have already told you about it. No matter what you choose, you have to make sure that these shoes are not slippery, and weightless, and your feet are not sweaty after several hours of dancing. If you are a newcomer, I recommend you to start with salsa dancing sneakers such as Dynadans mainly because they are flat. If you are a professional, you still have to make sure that the heel is neither too thin nor high and that the pressure is equally spread around the foot.
Types of Salsa Dance Shoes
There are several types of shoes you can pick for your dance classes. I have all of them on the list, so you can pick the one you like. Pay attention to their differences.
Jazz shoes or dance sneakers
Usually, they have flat or small heels. The sole is flexible, with a tight grip. Sometimes, this shoe type has extra protection for your toes.
Ballroom practice shoes
These shoes have wide heels. There are no decorations on the upper part. You can clean such shoes with a wet towel. They are made for practice.
High-heeled dance shoes
They have thinner and higher heels than the practice ones. Still, the heel must be of a comfortable height. Usually, they are decorated with colorful straps and rhinestones.
How are salsa shoes supposed to fit?
You have to pay attention to the size table of each developer: They can differ. If you don't know your size, measure your foot, including the length and width. Pick the size you need based on these measures from the table.
The benefits of salsa shoes
You can't dance salsa in pointes or sneakers that were originally made for hip-hop dances. Salsa is a unique Latin dance, the form of ballroom dance. Ensure that you wear the right shoes. The benefits of salsa dance shoes are:
The comfort of moves. These shoes are made specifically for salsa. They can handle all the spins and slides;
Stability. Dancing shoes have high-quality soles for a tighter grip on the floor. Since ballroom floors can be slippery, you have to make sure you will not fall in the middle of your performance;
Extra fixation. Any salsa shoes have an extra fixation on the toes and arch. There are elastic stings and buckles made of leather. You can find a wide range of fixation for your feet;
Inside the shoe, there is an extra cushion or soothing fabric that absorbs sweat. Your feet will feel comfortable due to the smooth touch of the soft material. The midsole thickness is highly important for your moves too.
FAQ on Salsa Dance Shoes
Here are some questions I have found on the Internet, all asked by thousands of online users. I hope my answers will be handy for you.
What are salsa shoes?
Salsa shoes are dancing shoes that were created specifically for salsa performances and practice. The effect of specially designed dancing shoes can't be overestimated. They are strongly fixated on the feet, elegant, and usually have medium-length heels of 2-2.5 inches. The shoes protect your feet from extra pressure.
What are the different types of heels for salsa shoes?
There are not so many types of heels. I can separate two typical types, which are wide and narrow heels. The wider heels are more stable, while the narrow heels are more elegant. You can also find the different lengths of the heels.
What is the difference between salsa shoes for performance or practice?
Practice shoes are usually washable or can be wiped with the wet fabric. You need them to learn how to dance salsa. Meanwhile, shoes for performance are decorated with colorful straps and stones.
Shoes for Salsa: Take a Step to Your Dream
If you are just at the beginning of your dancing road and don't know how to make the first step, make sure you have the proper shoes to do it. My list contains all the best models to dance salsa. Dynadans is my top option because I've used them a lot, but you might prefer other shoes on the list. Pay attention to the fabric, height, support, grip, and price of each model.
Have you ever tried any models on the list? Which features are you looking for in the salsa shoes? Share your thoughts in the comments below.