If your toddler dreams about ballet, you might be head over heels about it. You will quickly realize that finding the best ballet shoes for toddlers is not that simple. There are too many offers on the market. If you are confused about which pair to buy, pay attention to this list.
Wide elastic band on the arch
Wide elastic band on the arch
I have gathered here the most reliable options. All of them have been checked personally by my friends from ballet school or me. Weigh their pros and cons carefully. Once you find the perfect shoes for your toddler, you may want to buy another pair for yourself.
Top 6 Best Ballet Shoes for Toddlers
Here is the description of 6 different ballet shoes. Please read each of them, it will help you to make an informed choice. Find out what features you need to consider in the first place.
1. Stelle Top Pick Best Ballet Shoes for Toddlers
This unisex leather model is available in a wide range of colors. It is simple to clean it with just a wet cloth. The sole is also made of leather. There is a breathable fabric inside the shoe, so your toddler's feet will not be too sweaty. Stelle is a manufacturer from San Francisco. This company was created by one mom who wanted to provide the best shoes for her children.
These ballet shoes are light and hold reliably on toddlers' feet thanks to the elastic band around the arch and two rubber bands that provide extra fixation. You can choose between ballet pink, pink, light pink, and black colors.
You need to keep in mind the age of your child and length of the foot to pick the right size. For example, younger than 5-year-olds need Toddler 5M-Toddler 10M size, and toddlers between 5-10-year-olds need Little Kid 11M-Little Kid 3M. If you order shoes for boys, consider one size bigger.

PROS:
The high-quality leather
Extra fixation
Breathable
Simple to wash
Wide range of colors
CONS:
You will have to spend some time to pick the size you need to buy
2. Capezio Daisy Runner-Up Toddler Ballet Shoes
I dance wearing a similar model, but for adults. This one is entirely made of leather, from the sole to the cover. Inside of it, there is a breathable cotton padding with cute flowers. But, don't worry, you will not find daises in unisex white and black models.
Capezio is originally not from the US. It was founded in Italy by one Italian family back in 1887. Several years later, they moved to the US to make the best ballet shoes for Broadway.
Your kid will appreciate the lightness of this model. It also has a reliable elastic fixation of the feet. If you are worried that it might be slippery, that's not the case. Developers created unique hammered pleats for contact with the floor. You still have this flying effect while staying firm. You may choose between ballet pink, white, and black colors.

PROS:
Lightweight 100 percent leather
Simple to wash
Cute daisy print inside
Wide elastic band on the arch
Affordable price
CONS:
The color palette is slightly limited compared to other models on the list
3. Stelle Premium Choice Kids Ballet Shoes
This model is a classic ballet shoe made of leather. It has a reliable elastic string, so the shoe will not slip off during the dance. Apart from that, the sole is made of suede, so it is not slippery.
I have already told you about the Stelle brand: the US manufacturer with over 20 years of experience on the market. I like that it was inspired by the philosophy of e creative mom who founded it.
You will find it in different colors, such as ballet pink, pink, and black. There is a tie and no tie models. I don't recommend putting them in the washing machine even though they are reliably stitched.
You can get rid of dirt by wiping them with fabric. There is also a convenient size chart provided by the manufacturer which I advise relying on while making an order.

PROS:
Non-slippery
Easy to wipe the dirt
Comfortable shoes
Trustable developer
Competitive price
CONS:
The size chart may be slightly confusing
4. Bloch Unisex Ballet Shoes for Boys and Girls
This model is perfect for every toddler who wants to learn ballet dance. It has a firm leather on the entire sole and a breathable lining inside. You may use an elastic band that fixates the arch or the ribbon to provide extra fixation.
Bloch company was founded by Jacob Bloch in Sydney back in 1932. They produce pointe shoes and sell them around the world. You can rely on the quality of their products.
This model is available in black, white, pink, and ballet pink colors. There is different width for each model. I suggest you measure your toddler's feet before making a choice. There are really narrow, just narrow, medium, and wide widths. The model is made of 100 percent high-quality leather.

PROS:
High-quality material
Lightweight
Two extra fixations
The full sole
Affordable
CONS:
The leather sole may be slightly slippery once you buy it
5. Bloch Glittery Ballet Shoes for Girls
If your girl wants to look fabulous on stage or during her training routine, this model is for you. It is sparkling bright with all the glitter on it. You can enjoy the pink model or the gold one.
Bloch conceived the model of the outstanding outlook mixed with high quality. The Sydney-based manufacturer has been producing durable ballet shoes for many years. This model made of 100 percent textile is no exception.
This shoe differs from the previous models on the list. Instead of leather, it has a 100 percent fabric for upper part and suede sole. The elastic band on the arch provides for a tight fixation. There is also a cotton lining with cute bunnies inside the shoes.

PROS:
Fabulous design
Weightless
Breathable fabric
Tight grip with suede sole
Legendary developer
CONS:
You shouldn't wash these shoes. All you can do is slightly wipe them
6. Bloch Prolite II Childrens Ballet Shoes of High Durability
This model comes in one color, which is theatric pink. It is made of leather, suede, and cotton. The cotton insert provides extra softness, while the suede sole makes it non-slippery. The leather is of AAA grade. I have mentioned two more Bloch models above since I consider this company one of the major players in the ballet market. Australian manufacturer does its best for dancers around the world.
This pair comes with a split sole to minimize the wrinkling and make the moves more flexible. The elastic straps are pre-sewn. You can adjust them the way you want. If you need to tighten the shoe, you can use the cotton drawstring sewn in the arch. There are different sizes in the chart with the explanation. I recommend following the company's advice and picking up the most suitable pair.

PROS:
Flexible moves due to the split sole
Cotton lining inside
High-quality leather
You can sew elastic band as you want
Lightweight
CONS:
The split sole might be problematic for newbies
Ballet shoes buying guide for toddlers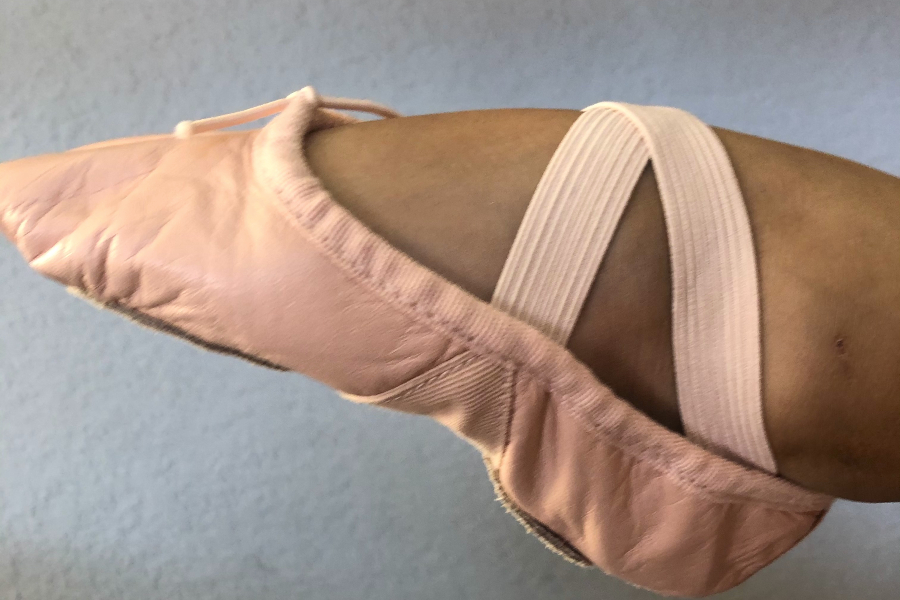 You shouldn't bring your child to the ballet unprepared. Whatever you are up to, safety goes first.Ballet is a beautiful art which can be ruthless to children's feet. If your training includes spinning, gliding and jumping, make sure that your chidlren's shoes endure it. Consider all the possible activities involved before you make your choice.
Ballet Shoes Materials
Select proper materials for your kid's shoes. There are several of them, and at first, you may get confused. Each material has its perks.
Leather
Leather is a perfect materialfor beginners. It is durable, strong and it protects the feet in the best possible way. Apart from that, it is easier to wash or wipe it. Its only flaw is that it's not breathable.
Canvas
Canvas is soft and lightweight. It does not protect feet as much as leather, but it is breathable. I do recommend making sure that there is a 100 percent cotton canvas at least inside the shoe. As you may see from the list, I prefer the combination of materials.
Satin
Satin is a perfect choice for performance. It looks gorgeous, and it hugs the feet so gently. Yet, your toddler will destroy satin pointes in no time for daily practices. You can try leather shoes with satin straps as an option.
Overall Pick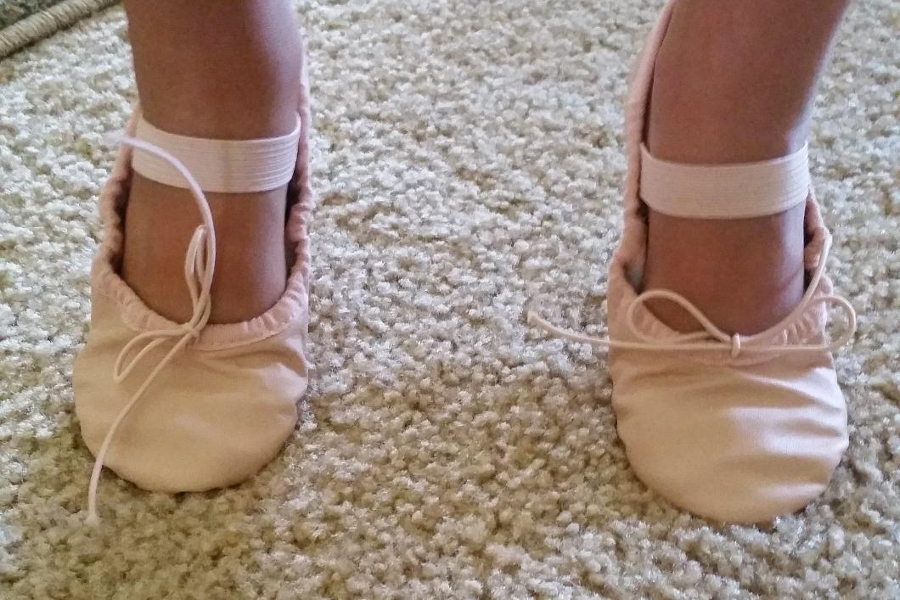 My personal choice is the combination of all these materials. You can go with leather shoes, canvas insocks, and satin straps. Thus you'll enjoy the variety of all the materials. ou can also buy several pairs of shoes for your toddler's training and the stage performances.
Split Sole vs Full Sole
It is up to you. The full sole may be better for amateurs since it spreads the pressure on the whole foot. Yet, the split sole contributes to the flexibility of movements.
How to measure size ballet shoes for toddlers?
The best way is to check out the size charts of each particular developer for each specific model. They can differ depending on the producer.
How should ballet shoes fit a toddler?
The ballet shoes must be slightly tighter than the toddler is used to wearing. After the first training, they will hug the feet perfectly. As an option, you can choose a size and fix the shoes with straps in case start sliding.
FAQ on Ballet Shoes for Toddlers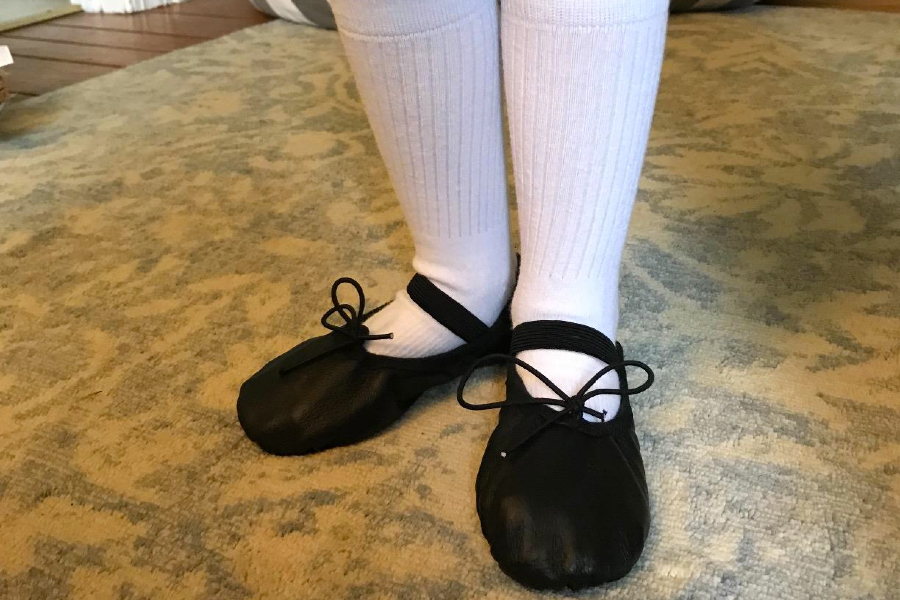 Read this detailed FAQ on ballet shoes. My answers may help you make your choice of toddler's shoes. I've collected the most popular questions from parents I have found online.
How to buy ballet shoes for toddlers?
If you're looking for the best shoes for toddler's feet, measure them to pick the right size Once you have done it, think about materials that suit you best. Ask the teacher about the movements they will learn to make the right choice.
What shoes should toddler boys wear to ballet?
Almost all the models I've shared with you are unisex. You can find the perfect ballet shoes for boys here. They are the same as shoes for girls.
How do I know what width ballet shoes to get my toddler?
You can start by measuring your toddler's feet. The shoes should be neither too tight, nor too loose. Check out the developer's size chart. It would help if you also learnt how to tie shoes properly.
Searching for Perfect Ballet Shoes for Kid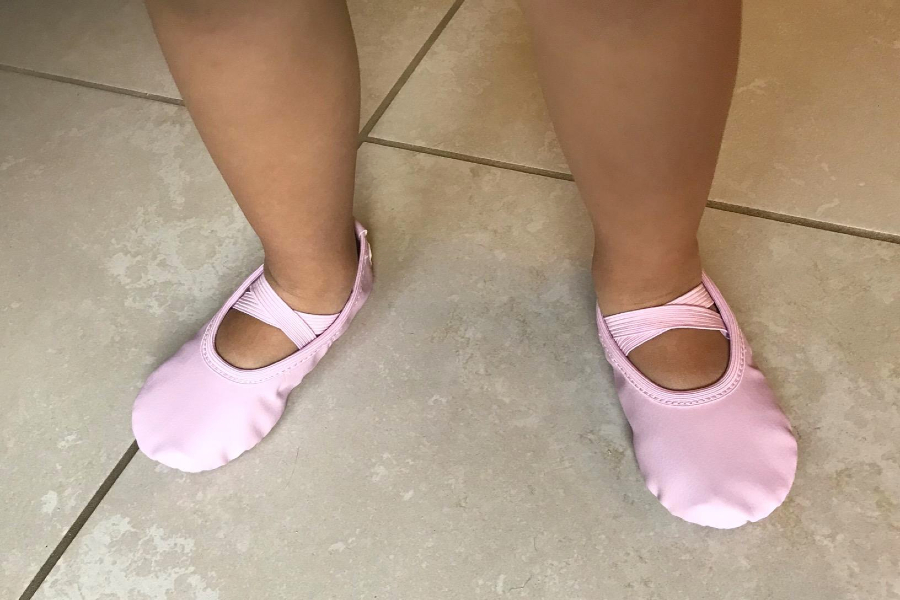 You should try to save your toddler from possible traumas while dancing ballet. Since it is impossible to protect yourself from everything, start with your feet. The perfect shoes will add lightness and gracefulness to moves, taking care of the feet's safety at the same time.
My top choice is Stelle ballet shoes for toddlers, but you can find your own. Make sure they are not slippery and of the right size.
Have you tried any shoes from the list? What ballet shoes are your kid's favorite? Share your thoughts in the comments below.