It is hard to find the perfect pair of shoes to improve your ballet performance. Yet, there are some standard features that the best ballet shoes for beginners should possess. They should be comfortable, reliable, and let you express yourself without squeezing each move.
To achieve it, define basic demands, like durability, lightweight, safety, and affordable price. The next step will be looking closer at the fabric to decide whether your shoes are thin enough and non-slippery. There are multiple options on the market, but you have to pick something. That is why I've created this guide for you.
Top-8 Best Ballet Shoes for Beginners
Although there is a wide range of ballet shoes on the market, the options are scarce for the shoes you may wear for your first training. I have carefully selected my favorite brands and models. You can choose one or try a few of them. My close friends and I personally checked all the products.
1. Capezio Women Model Top Pick – Best Ballet Shoes for Beginners
This ballet shoe is made of high-quality leather that is soft and lightweight. You can choose a pink, white, or black color. Capezio is a famous company that has been developing dance shoes for professionals and amateurs since 1887.
I trust this company as it used to provide shoes for Broadway stars. Let it not discourage you: this model fits any budget. This shoe is non–slipping, providing smooth contact with the floor via the hammered pleats. It does not fall off when you dance due to the reliable elastic string.
While I have not found evidence from others anywhere, I can assure you from my personal experience that this model is not smelly even after many hours of dancing. I believe it is somehow related to the 100 percent cotton insert inside the shoe.

PROS:
High-quality leather
Lightweight
Non-slippery
Strong fixation
Affordable price
CONS:
You have to pay attention to the size you have and the store offers since they may differ
2. Wendywu Slippers – Runner-Up Pointe Ballet Shoes for Beginners
You might have heard about this developer. They have been producing exclusive ballet shoes for girls and women for over 20 years. Apart from ballet shoes, they also make ballet dresses of high quality, but they are mostly known for their pointes. I admire the beauty of each model. They make the model Wendywu from satin and thick German paper for the sole.
German thick paper is durable, so these shoes will serve for many years. However, I wouldn't recommend standing in the water for too long. Instead of washing them in the washing machine, wipe them gently if there are stains. The satin ribbon reliably fixes the shoe making it anti-slippery.

PROS:
100 percent satin
Germany thick paper provides for lightweight
They look incredible
You fix your feet with the ribbon
Trustworthy developer
CONS:
You shouldn't wash these shoes in the washing machine or dry clean them
3. DoGeek Pink Pointe – Beginner Ballet Shoes of Premium Choice
You can start your education with this model. It looks gorgeous and it fits your feet perfectly. You should choose the size that is slightly larger than you have.
DoGeek is a popular brand in the US that produces ballet shoes. Although this is a Chinese-based company, it has a good balance of quality and price. It's also known for its perfect grip. Since 2014 they have been offering pointes to the American audience.
It is made of satin, and it has a rubber sole providing a tight grip. The fact that your shoes will not slip away makes you feel secure. The forefoot is protected by the wide and sturdy box inside. The package includes the toe pads inside so your feet will not hurt after each practice. The sole is stitched with a double needlecord to the pointes.

PROS:
Stylish classic design
Extra protection of the forefoot
Durable rubber sole
Affordable price
100 percent satin
CONS:
You have to keep adjusting the satin ribbon to your leg
4. IJONDA Adult Model – Perfectly Shaped Classic Pointes for Amateurs
Amateurs and professionals can use this model. While the sole is not made of rubber as in the previous model, thick German paper allows the dancer to fly high in the sky.
IJONDA specializes in professional pointes. They are considered a superior manufacturer with over 20 years of experience on the market. Their primary commitment is to the young girls and women who want high-quality, affordable dancing shoes.
I do recommend paying attention to this model, since it is lightweight, durable, andelegant. It comes with silicone toe pads that are a must-have for all beginners. There are thick ribbons of satin that tightly fix the shoe on foot. I believe 24 inches in length will be more than enough to make sure the shoe will not fall off.

PROS:
High-quality materials
Silicone toe pads
Provided in the comfortable bag
Wide range of colors
Affordable price
CONS:
You shouldn't wash these shoes in the washing machine
5. Nexete Dance Shoes – Reliable Pointes of Any Size
If you are looking for the types of ballet shoes with leather soles and siliconde toe pads, it's the model you need. Nexete is the American-based ballet shoe developer founded in 2011, specializing in high-quality pointes for professionals. Yet, this model is also suitable for amateurs due to the toe pads and comfort it provides.
You can choose the size and the colour you want: there are black, pink, and red options. Its satin fabric is smooth and pleasant to touch the leather sole is strong and durable. The drawback is that you have to learn how to fix your leg properly with the satin ribbons, whichare thinner than in the previous models.

PROS:
Leather soles
The package includes pads and bag
Three colors to choose
American-based developer
Durable fabric
CONS:
Satin ribbons are thinner compared to the other models on the list
6. Capezio Juliet – Comfortable Model of High-Quality Leather
This model looks and feels exquisitely on your feet. It also fixes the foot reliably, making it non-slip, which you may appreciate while dancing. Capezio developer is an Italian shoemaker. The company was founded in 1871. In 1887 they moved to the US, and since that time, they have provided the best ballet shoes for Broadway dancers.
For this model, you may choose between in black, white, or rose quartz color. I recommend buying it size in size. It is made of the best water-resistant leather and suede you can find. At first, you may find the lack of ribbon or rubber fixation uncomfortable. Yet, in a while, you will get used to it.

PROS:
Leather shoe
Sole is made of suede
Weightless
Absorb moisture
High-quality product
CONS:
There is no ribbon to fixate the arch
7. Sholing Balette Shoes – Pointes With Comfortable Toe Pads
These pointes are made for everyone who enjoys ballet regardless of their skills. Sholing is a well-known developer of professional pointes worldwide with 20 years of experience. Although it is not an American company, I trust its quality. It is based on a reasonable price for soft silicone toe pads absorbing the odor and a satin ribbon of 23 inches.
You can easily adjust the ribbon around the calf, fixing the whole shoe reliably. The pointes are in pink and red colors, and you can choose the one you like. The sole is made of non-slippery synthetic material from Germany. Don't worry that you may lose the shoe during the dance; even if your ribbon gets loose, you still have the rubber band around the arch.

PROS:
Comfortable toe pads
Double fixation
Lightweight
Affordable price
Durable fabric
CONS:
Not an American developer
8. Capezio Juliet 2027 – Ballet Shoes with Suede Soles
The model provides extra support for your feet during dancing. It looks lightweight, and it feels this way too. Fixing them on your arch with rubber strings makes you feel barefoot. The fabric is breathable and water-resistant. I have mentioned this company numerous times. Capezio is one of my favorites, comprising Italian experience with American demands.
While I am not sure they recommend washing these pointes, I have done it several times. Just pick a gentle washing mode and make sure you don't damage the rubber drawstring. The suede sole can be slippery at first. I'd advise wearing these pointes right after you buy them to get used to them.

PROS:
Leather cover
Sole is made of suede
Comfortable cotton inside
Absorbs moisture
Affordable price
CONS:
It has no satin ribbon that is considered classic on ballet shoes
Guide to the Best Pointes for Beginners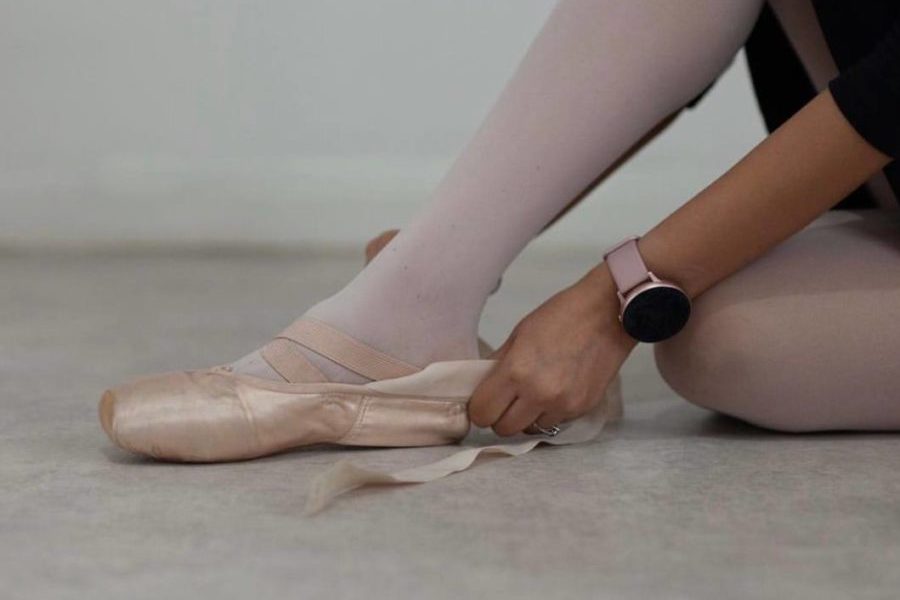 When choosing your first ballet shoes you have to consider numerous features. Think about the material of both the upper part of the shoe and the sole. Do you want extra protection for your toes? Which fixation do you prefer, the elastic or satin ribbon? If you don't see the difference, this guide will help you.
Types Of Shoes to Attend Ballet Classes
Ballet shoes have long history behind them. There are different types of shoes you can wear to dance ballet. Pick the one you need right now. Later you can buy extra pair. Your options:
Full sole. Amateurs widely use this type. They provide additional support to your feet, evenly spreading the weight of your body. All the models on the list are suitable for newcomers and protect the feet with toe pads;
Split sole. The bottom of the shoe is covered with a hard pad protecting the heel and toes. It allows the dancer to move quicker and lighter;
Professional. These shoes mainly support ankles and feet. They are used by experienced ballerinas who know what they are looking for.
The Cost of Ballet Shoes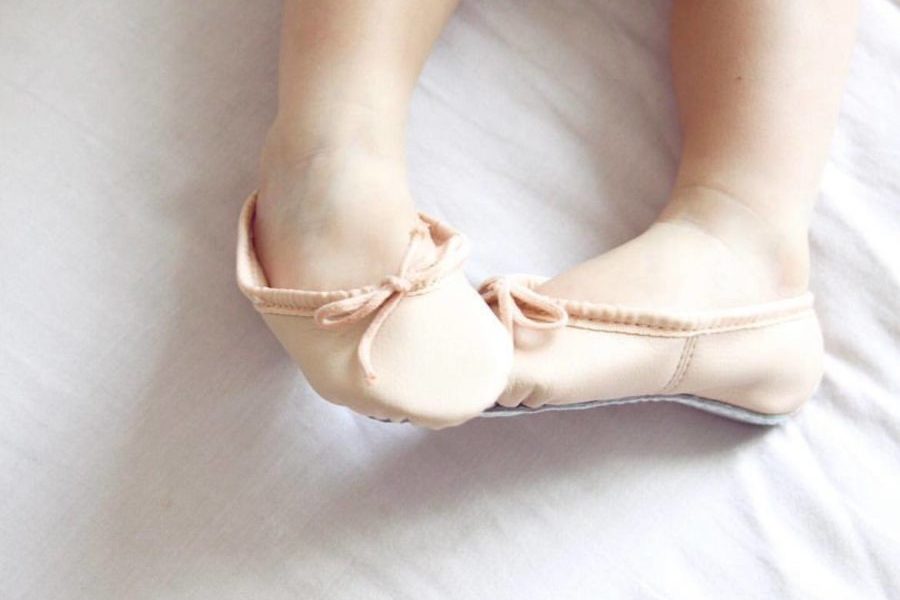 You will be amazed by the price the ballet shoes have. While they all look gorgeous and are made of high-quality material, the price usually varies from $25 to $40. So, several pairs of ballet shoes for your practice and performance are quite affordable
Features Beginners Seek in Shoes
If you don't know where to start, here is a simple checklist for you. These are the features of pointe shoes you should consider:
Material. The most obvious options are satin or leather. No matter which one you'll choose, make sure it is of high quality.
Sole. It can be made of suede, a Germany paper, and rubber. Suede is universal. Germany paper refines your ballet performance . Rubber provides a tight grip.
Pads. Use toe pads or at least the tight material close to your toes to protect them. You may not need them in the future. Amateurs will feel safer with silicone pads.
FAQ on Ballet Shoes
Here are the most popular questions about ballet shoes that I have found online. If you want to add something to my answers, you can do it in the comments below.
Are leather or canvas flats better for beginners?
It really depends on the effect of the pointe shoes you want. If you ask me, I would say that leather shoes are better since they are less slippery. They are also more durable and you can wash them. Yet, satin shoes are more aesthetic.
How do you know your ballet shoe size?
I recommend you pay attention to the recommendations placed by each shoe developer. Some offer you size to size pointes, so you need to pick your size. Others advise you to pick one size bigger than you use in your daily life.
What are the three types of ballet shoes?
I have answered this question above in details. In brief, you can choose between split sole, full sole shoes, or professional shoes.
Ballet Shoes for Everyone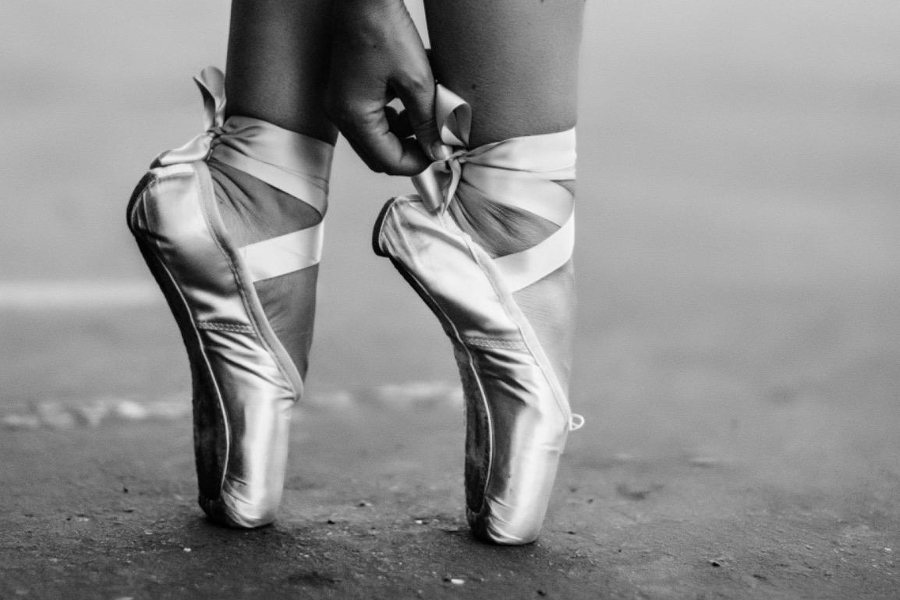 You don't have to search fthe best ballet shoes for too long. All you need is to pick one of the top 8 models I described for you on the list. They have been tested for many years and I can say that all of them, no matter which shoes you choose, are reliable.
My current choice is the Capezio Daizy model, which I like not only because of the cute daises inside the shoe, but due to its high quality and strong fixation.
Have you ever tried any of these models before? How long have you been dancing ballet? Share your story in the comments.