Convenience might be one of the major factors for those looking for the best canvas ballet shoes. Unlike leather, the fabric is breathable and weightless, making all your movements unconstrained and free. It gives less protection to your feet than leather shoes, but canvas pointes make you feel barefoot, letting you float during your ballet dance.
You can wash it in the washing machine
Split sole for better moves
Top Pick
You can wash it in the washing machine
Split sole for better moves
There are enough options on the market to choose the most comfortable pointes for you. Check out my detailed review of the pointes I have picked for ballet dance for myself. You may order several of them since each pair is quite affordable.
Top-5 Best Canvas Ballet Shoes Reviewed
This list contains only the canvas ballet shoes I've checked myself. If you have more to add to the description, you can do it in the comments. I also encourage you to read both pros and cons carefully before buying anything.
1. Bloch Synchrony Top Pick Best Canvas Ballet Shoes
This model comes in pink color only. You can also choose the size and the width from the table. The split sole is made of leather, and it could be slightly slippery the first time you dance. The canvas is made of stretching fibers.
Don't worry about losing the shoes during the dance; the wide elastic cross on your arch reliably fixates them. The top line also contains rubber. Bloch is a legendary developer from Australia, which you may already know. The company was founded in 1932. Since then, they have been creating the best ballet shoes for ballerinas around the world.
This model is weightless, with the sole reliably sewn on the toe. There are no ridges on the shoe. Since it does not contain any paper or satin inside, it is simple to wash it. I'm using the hand mode for it on my washing machine. I wouldn't recommend this model for your first classes since the shoe does not protect your feet from the possible newbies' traumas.
If you are more proficient, you will have nothing to worry about. You will enjoy the refined breathable fabric, durability, and tight grip that a leather sole provides.

PROS:
Breathable fabric
Weightless
Freedom of movements
You can wash it in the washing machine
Well-known developer
CONS:
Does not protect your feet from injuries
2. Capezio 2028 Juliet Runner-Up Canvas Split Sole Ballet Shoes
The model is available in white, black, and pink colors. It comes with a cross elastic band for better fixation and a ribbon you can adjust to make the shoe tighter on your feet.
Capezio is an American-based shoe manufacturer. Yet, it was founded in Italy back in 1887. The company later moved to the US and continued to create shoes for ballerinas. It became the top choice of Broadway dancers.
This pair is weightless and made for professionals. It has a 100 percent canvas upper part, while the sole is made of synthetic fabric. The split sole is perfect for any dance moves you perform on stage.
The lining is made of cotton and polyester. There are Hammered pleats on the sole for a tighter grip. There is forefoot padding for your security during the dance.

PROS:
Simple to wash
High-quality fabric
Split sole for better moves
Extra fixation
Affordable price
CONS:
You have to stitch the elastic band by yourself
3. Bloch Premium Choice Stretch Canvas Ballet Shoes
It is a 100 percent high-quality canvas mode with a split leather sole that does not restrain your dance moves. I have already mentioned the ballet shoes made by the Bloch company. It is a foreign company from Sydney which I respect for the incredible quality.
These cross pointes are one of their best offers, among many others. The crossed elastic band on the arch keeps your feet inside the shoes and reduces their pressure.
The elastic band is pre-sewn, so you don't need to sew it yourself. Since the shoe is made of canvas, it will not cause any discomfort even if it is still new. There is a forefoot pad of a specific shape that protects metatarsals.
There are no ridges that can provoke bruises on your legs. The shoe feels like a hug on your feet. Yet, there is only one color available, which is pink.

PROS:
Breathable inside
Extra secured toes
Crossed elastic band
The sole is split and made of leather
Lightweight
CONS:
This model comes in one c color only
4. Sansha Ballet Shoes of Textile
These shoes look so stylish that you will hardly resist buying them. There are numerous colors to choose from, including light pink, black, white, flash, peach, and gray. If you need mens canvas ballet shoes, you may try their gray or black model.
There are all sizes available and different widths for everyone. Sansha is a company founded in 1982 by a Frenchman passionate about Russian ballet. The company has existed since that time. It produces perfect dance shoes for the international community.
This shoe comes with crossed wide elastics. You may attach its ends up to your preferences. You can also adjust the ribbon sewn inside tighter if you need. The sole is made of high-quality leather that also ensures a tight grip. You can also use the washing machine for this model.

PROS:
Lightweight
Sole made of leather
100 percent quality fabric
Washable in the washing machine
Affordable price
CONS:
You need to sew the elastic band to its place
5. Capezio Juliet Ballet Shoes of Leather
I have placed one model with leather upper on purpose here. It's great to have many options to choose from. This model's sole is made of suede. There is a cotton lining inside the shoe, which absorbs all the moisture. If you are looking for kids canvas ballet shoes that will protect the feet and still feel lightweight, pay attention to this mix of canvas, leather, and elastic.
Capezio is famous for its ballet shoes made of high-quality leather. The company, which was born in Italy and moved to the US many years ago, continues to experiment with different fabrics for providing comfort for a dancer.
The model feels perfect on your leg. If you have just started your training, I advise you to choose this leather option. It is simple, easy to clean, and you will not feel any discomfort. You have to pick the right size using the store's size chart.

PROS:
Extra durable
Simple to wash
Protects your feet
Holds tightly
Famous developer
CONS:
Not entirely made of canvas
Buying Guide to Canvas Ballet Shoes
Before buying your first pair of canvas ballet shoes, you should pay attention to numerous features. Each pair has its unique benefits to offer. Here are the aspects to consider:
Fixation. It should be tight enough, but not too much. The best option here is to cross two elastics that hold your feet inside the shoe;
Quality. It must be made of high-quality, durable fabric. You will constanly use these shoes, so they should not fall apart on stage;
Sole. It is up to you which sole you want to choose. You can try the leather one, suede, or even made with German paper. The classic sole on the canvas shoes is split and made of leather. The right ballet shoes are very important for your health.
FAQ on Best Canvas Ballet Shoes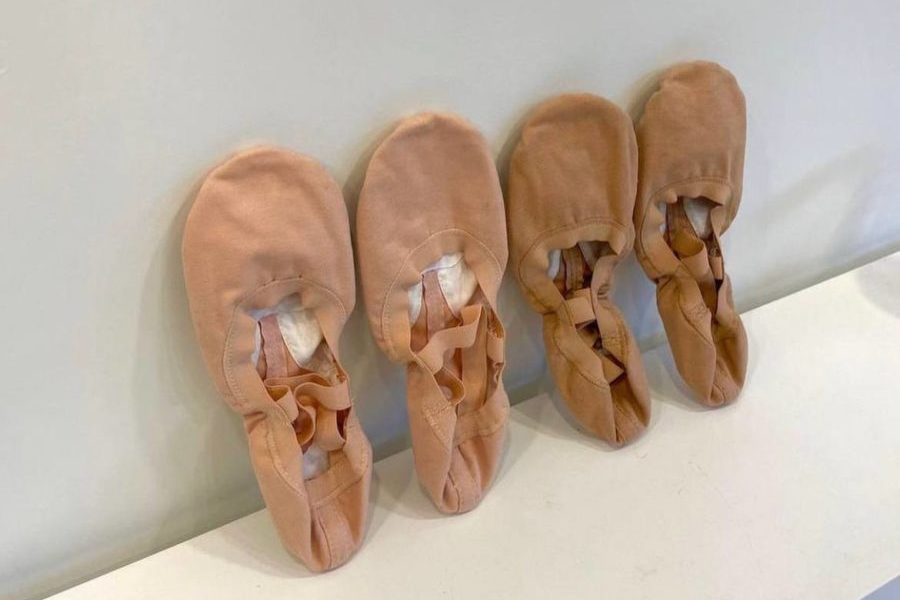 Here are the most popular questions on the Internet. Read my answers before you decide which shoes you want to buy. Who knows, you might find answers to your questions here as well.
What are canvas ballet shoes?
Canvas ballets shoes are models made from fabric and usually worn for training by professional ballerinas. They are lighter than leather shoes and more comfortable than satin stripe pointes. They typically come with a split sole.
How to stretch canvas ballet shoes?
Canvas ballet shoes are easy to stretch. All you need is to dance in them for a few lessons. If you need to stretch them as soon as possible, you can try to wear them while they are still wet.
What are stretch canvas ballet shoes?
These shoes are made from flexible canvas. Usually, it contains some elastic fabric inside. They have the split sole and are stretch on your feet while you move. Improper pointe shoes can lead to disaster.
Canvas Pointes for You
Canvas ballet shoes are weightless, beautiful, and ease your moves. They are the perfect gift for every dancer or yourself. I believe you may find your perfect shoes here, on this list. While my favorite pair is Bloch Synchrony, I recommend you choose the one that matches all your demands. Check the fabric, its quality, the sole, and the brand.
Have you ever danced in one of the shoes from the list? Which demands do you have for your ballet shoes? Express your thoughts in the comments below.